What Is An Actuary Anyway?
There is no single definition regarding what an actuary is. Actuaries have been described as financial fortune tellers, business mathematicians, data inspired professional problem solvers, business statisticians and financial astrologers. In a recent popular LinkedIn discussion there was a strong level of agreement with the version put forward by the Society of Actuaries in Ireland:
"An actuary is a professional with a skill set to use numbers to make judgments about the future."
Whatever definition we use, it's clear that actuaries are professionals with an aptitude towards mathematics and a strong propensity to use their skills to help predict the future.
An actuarial career has, for many years, been viewed as a highly desirable career for many reasons. For example, an actuarial career is often described as a career with:
Great opportunities. For example, for travel, to have a highly respected career, to rise up the corporate ladder.
Interesting and intellectually stimulating challenges.
Potential to make a difference. For example, actuaries help to manage the pension funds of millions of people, advise governments on their social security benefits and can help to model climate change.
A good work life balance.
Opportunities to use maths and statistics, to solve interesting problems, as part of the job.
Potential to have a financially lucrative career.
We could discuss all these at length, but let's focus on the last one, as this is the headline figure that usually catches the eye of new aspiring actuaries and is often shrouded in mystery!
Actuarial Salaries
Historically, actuaries have been considered as business professionals having some of the world's highest paying jobs. In Ireland, entry level actuarial jobs pay as much as €35,000 while the average salary for a newly qualified actuary is at least €65,000. This then rises, sometimes dramatically, depending on factors such as post qualification actuarial experience and level of responsibility (e.g., managing a team or department or having a signatory role).
It's not just Ireland, where actuaries well-paid. According to data from Hays UK Salary & Recruiting Trends 2019 Guide, a London-based Chief Actuary commands a typical actuarial base salary of  £178,000 (~€206,000). These actuarial salary figures are very much aligned with the results we have seen from our own Acumen Resources annual actuarial salary survey.
So why do actuarial jobs pay so well? Well, one of the key drivers behind the lucrative salaries actuaries earn is because of the limited supply of actuaries. For many years actuarial jobs, in Ireland and other parts of the world, have been growing in number yet the supply of actuaries remain scarce. The barriers to entry, such as getting through difficult exams results in a limited number of qualified Fellows.
The high financial compensation and other benefits associated with actuarial jobs often grabs the attention of graduating students and makes them think of building a career as an actuary. However, all "aspiring actuaries" should be clear about the commitment required as certain requirements need to be satisfied before you can apply for an actuarial position and also call yourself an actuary.
What Qualifications Do You Need To Be An Actuary?
 Whilst we have our own professional body representing the actuarial profession in Ireland (The Society of Actuaries in Ireland) they are not an accrediting body. Hence, if you are thinking of starting a career as an actuary in Ireland and sitting actuarial exams, the first step is to enrol at the Institute and Faculty of Actuaries (IFoA) in the UK. The IFoA is "the UK's only chartered professional body dedicated to educating, developing and regulating actuaries based both in the UK and internationally". If you are a new actuarial student, it is likely that your actuarial employer will help you with this process and may also pay the fees required to be a member. Most Irish actuaries also join the Society of Actuaries in Ireland, and again most actuarial employers will logistically and financially support new actuarial students with this.
It should be noted that not all aspiring Irish actuaries can enrol at the IFoA. There are requirements you need to meet before you can become an IFoA actuarial student. You may mistakenly think any degree from a university in Ireland would be sufficient, but this is not always the case. You will only be eligible to enrol if you finish one of the IFoA's recognised degrees in actuarial science, mathematics, economics, finance or statistics. Alternatively, if you have earned a degree not included in their list, you can still apply for IFoA membership as long as you satisfy certain requirements such as earning a specific grade in a higher-level mathematical subject.
Once you are an IFoA student, the preparation begins for the series of professional exams you need to take to become an actuary.
Most new actuarial students attempt to gain exemptions from some of their actuarial exams based on having covered, and been examined on, the equivalent actuarial exam material during their university degree programme. Many universities have accreditation agreements with the IFoA whereby their university grade results may automatically mean they can claim actuarial exemptions. Some universities have actuarial science course that are fully accredited by the IFoA, meaning graduating students can achieve the full suite of earlier IFoA Core Principle exam exemptions and also possibly some later exam exemptions. The universities in Ireland offering actuarial degree programmes that are fully accredited by the IFoA include University College Cork, University College Dublin, Dublin City University and Queen's University Belfast.
One of the defining things of a qualified actuary is the fact that they have gone through a very rigorous set of actuarial exams. Regardless of the number of exam exemptions you achieve, there is still a long road of actuarial study ahead. In fact, it usually takes around three to seven years to finish all the actuarial exams required to be a qualified Fellow of the IFoA. Obviously, this differs for everyone and depends on factors such as:
how many actuarial exemptions you have from your degree course.
how committed you are to your study.
how much support you have from your actuarial employer. Most actuarial employers provide a study package of around 40 days per annum. If you do not have adequate time off, it can be very difficult to pass the demanding actuarial exams.
how good you are at taking exams.
how lucky you are!
Don't panic, though!
You do not have to complete all the exams before you can start working in the actuarial field. In fact, you can work as an actuarial trainee while studying for the exams. To be more specific, you can work as an actuarial trainee in a consultancy or an insurance firm. As a trainee, you can expect to do actuarial work and you will typically be mentored by nearly-qualified actuaries or even fully qualified actuaries. In Ireland there are approximately 1250 qualified actuaries and 650 actuarial trainees still studying for their actuarial exams.
It's important to note that actuarial trainees still get paid a very good salary even before they qualify as an actuary. There is also the added bonus of most actuarial employers giving their actuarial students a generous salary increase for every actuarial exam they pass. This typically acts as a great incentive for trainee actuaries, motivating them to keep going and to finish their remaining actuarial exams within a reasonable time frame.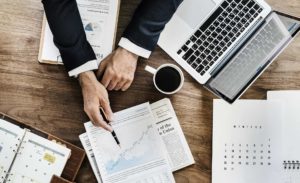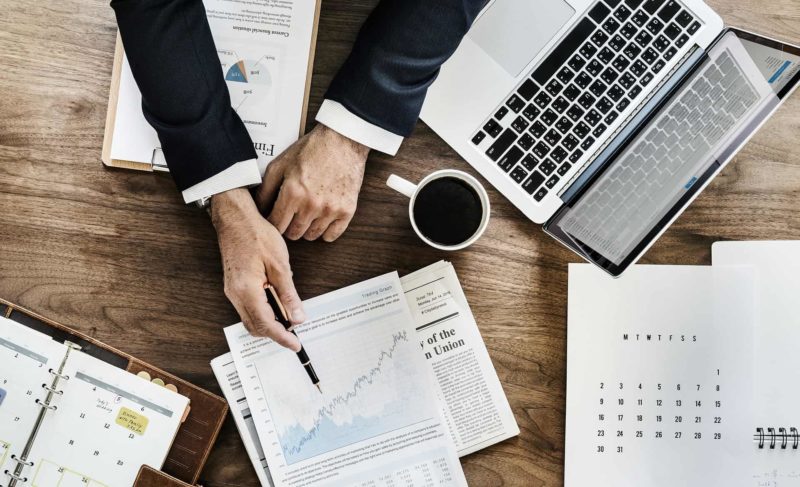 The next step is to become an Associate. One requirement to move to this level is to pass the exams from the IFoA Core Principles and Core Practices modules. You also need to complete a year's worth of Personal and Professional Development (PPD).
You can then officially call yourself an actuary once you become an Associate!
Once you become an Associate, more actuarial career opportunities become available. Depending on your interest, you can apply to these jobs and really start building your actuarial career. Whilst some actuaries stop at the Associate level, most actuaries in Ireland specialise further and complete the later actuarial exams required to become a fully qualified Fellow of the IFoA. Gaining the Fellowship qualification opens new doors for you, including various high-paying actuarial jobs such as Chief Actuary, Head of Actuarial Function or Chief Risk Officer.
It is important to note, however, that learning does not stop when you reach the Fellowship level. Actuaries are encouraged (by the various professional actuarial bodies, their actuarial employers and their actuarial colleagues) to keep learning, especially in today's changing business world where developments such as data science, autonomous vehicles, technology use within insurance (InsurTech) and blockchain are impacting insurance and risk, more generally.
Hence you will take courses or seminars to keep abreast with the changes in the actuarial industry. This is necessary to update your actuarial knowledge and skill set and for you to stay in demand.
Actuaries are also obligated to complete Continuous Professional Development (CPD) which is monitored by the IFoA.
According to the IFoA's website:
All IFoA members must demonstrate that either:
they have undertaken the appropriate minimum amount of continuing professional development (CPD) in accordance with the requirements of this Scheme; or
due to their personal circumstances, they are exempt from the requirements of this Scheme.
Where to Work as an Actuary
When thinking of actuarial jobs, the first thing that comes to mind for most people is the insurance industry. This is not surprising since 90% of Irish actuaries currently work in the insurance and pension industries.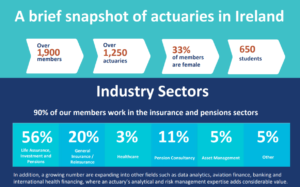 Source: Society of Actuaries in Ireland (https://web.actuaries.ie/) 
However, the insurance and pension industries are not the only places where you will find actuaries. As we have previously discussed on the Acumen website, there are many areas an actuary can work in. These include (but are not limited to):
Life assurance – This is the most traditional area for actuaries to work in. Roles include financial reporting, product development and pricing. Actuaries may also advise on investment strategies, business planning, and strategic risk measurement.
Pensions – Actuaries advise companies on all aspects of their pension scheme design and structure. They work alongside other professionals and provide actuarial advice.
General insurance – Actuaries work on pricing products such as motor and household insurance, advice on reserves and capital requirements, and may be involved in reinsurance arrangements.
Finance and investment – Actuaries are involved in the day-to-day activity of the capital markets. They advise on investment strategies and long term targets.
Enterprise risk management – This is a new actuarial field. Actuaries are involved in the identification, measuring and monitoring of risks to limit a company's losses. The level of risk taken is analyzed with regard the companies profit expectation.
Health and care – This is a growing area and actuaries are needed both in the private and public sectors. Actuaries may be involved in pricing medical insurance and critical illness contracts or projecting public healthcare costs in the future.
Reinsurance – In the reinsurance fields, actuaries can design and price reinsurance and retro-reinsurance schemes, and to establish reserve funds for known claims and future claims and catastrophes.
Management Consulting – This area is suited to actuaries with strong problem – solving skills, who enjoy a variety of work in a multi – disciplinary environment. A role in this area may involve working on large corporate transactions, M&A's and strategic investments.
Central Bank/Financial Regulator and other regulatory Bodies – Actuaries employed in this area ensure that the companies in their region comply with all relevant legislation.
Education, Universities, professional bodies – Actuaries are involved in the development of exam material and the setting and marking of examinations. Actuaries can also work as tutors and lecturers. Within the Professional bodies actuaries work to ensure all members are kept up to date with legislative changes and the organization of CPD events.
Environmental Impact Modeling – An increasingly important aspect in the evaluation of both existing and proposed changes to the environment, habitats, drainage and topography due to main-made or climate changes to the land, air or water.
As you can see, there are various areas in which actuaries work. It is worth pointing out that there is now a focused effort from various actuarial bodies to help and encourage actuaries to move into even wider fields that they may not have traditionally worked in. A good example of this is the role of the aviation actuary which has recently opened up new opportunities for Irish actuaries.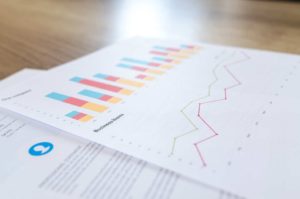 Should You Use A Recruitment Agency?
Choosing the right actuarial practice area for you can be a daunting task, especially for first-time job seekers, given the plethora of options available. Even for experienced actuaries hoping to explore other industries, this task can be very challenging.
One way to make things simpler for you is to get the help of a specialist actuarial recruitment firm.
A recruitment company won't just simply assist you in finding a job. A good recruitment company will also help you determine the right job and the right company for you, taking onboard your skills, your personality and your long term goals and actuarial career aspirations.
However, not all recruitment firms will be able to do this for you. In fact, for actuaries like you, many recruiting companies may not be of much help.
Why?
If your goal is to find the right actuarial job, you need a recruitment agency that has in-depth knowledge of your profession – the career opportunities, the skills required for each actuarial job, etc. It should be a recruitment company that understands what you do. In short, it makes immense sense to work with an actuarial recruitment agency.
Yes, there is such a thing as an actuarial recruitment company. A company that specialises in working solely with actuaries. Even better, a company that has actuaries, with actuarial experience, working as their recruitment consultants. The benefits of this can't be overstated.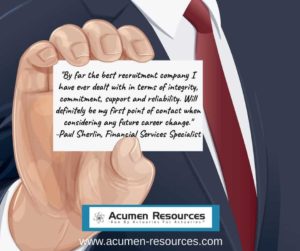 What Is An Actuarial Recruitment Agency?
An actuarial recruitment agency focuses on helping actuaries find actuarial jobs. In Ireland, the longest serving and agency with access to the most actuarial jobs is Acumen Resources. We are the only actuarial recruitment company in the country that is run by actuaries.
A company like Acumen Resources is what actuaries like you who are looking for a job need.
Our recruiters  have actuarial qualifications. In fact, our consultants have experience working in different practice areas.
Our team's qualifications and experience allow us to understand you better – your skills, your potential and your career options amongst others. You can trust us to properly and accurately evaluate your qualifications and skills. This is key to helping you the get the actuarial job you want.
Since our consultants are actuaries themselves, they have knowledge of the different actuarial companies in Ireland – the actuarial jobs they have, the kind of actuaries they need, etc. All these make it possible for us to determine which of these jobs in these companies is the right fit for you.
What Can An Actuarial Recruitment Agency Do For You?
1. We can help you determine your career path. As mentioned earlier, recruiters can assist you in finding out which amongst the opportunities available best suits you.
Being actuaries ourselves, we are in the best position to do this. We can give valuable insights on how to have a successful actuarial career. We can help plan out your future, giving you tips on what skills you need to develop to reach your goals and stay relevant.
2. We can help you find an actuarial job – not just any actuarial job but one that will match your skills and actuarial career aspirations.
This is what we do, and we do it well.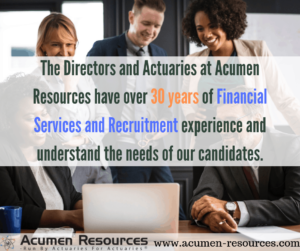 3. We can get you a job fast. Acumen Resources has been in business since 1998. For the past two decades, we've built an extensive network of actuarial contacts. We have established good relationships with various organisations, especially those who have actuarial staffing needs.
Hence, we are always one of the first to know about actuarial job openings in Ireland. We are the preferred partner of many companies in need of actuaries. We have access to many of the best actuarial jobs in Dublin and other parts of the country.
4. We make the job search simpler for you. Even if there is an abundance of actuarial jobs in Ireland, looking for one on your own is difficult. The harsh reality is that it is often a time-consuming, stressful and taxing process. It entails spending hours, even days, browsing job portals. It also means applying for actuarial jobs that may not be right for you.
Steer clear of these hassles. Stop wasting your time. Let us do the job so you can focus on other important matters like your work or passing your actuarial exams.
5. We can help you prepare for your job search. We can give you tips on how to get noticed, specifically how to get your foot in the door.
Don't know how to make an interesting and a compelling CV? We can help you! We can also give you pointers on how to answer certain interview questions.
Remember:
We are partners in this endeavour. We will help you every step of the way, from beginning to end.
Why Choose Acumen Resources?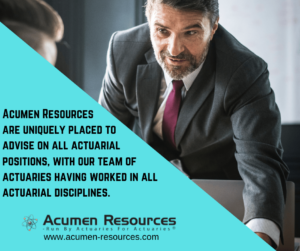 If you want to get a good actuarial job, work with us – Acumen Resources.
Our company has a proven track record of rendering high-quality service to our clients and candidates. We do not just help actuaries find the best job out there. We make sure that the entire process is hassle-free for them.
You can check what our previous clients and candidates have to say about using us as their actuarial recruitment company of choice. Ask people you know about our services. You can also visit our website to read our vast number of testimonials.
We have been doing this for decades. We know the actuarial marketplace. Most importantly, we understand actuaries like you.
To summarise, here are just some things that set Acumen Resources apart and help to ensure we are providing the very best service for actuaries in Dublin and Ireland that are considering a move.
We are a team of qualified actuaries with vast practical actuarial experience and actuarial recruitment experience. When you speak with us, the person at the other side of the table is an actuary like you. We understand your actuarial skills, your career options, your need for professionalism and confidentiality, etc. We can therefore provide a 360 degree holistic service where we consider what is the most suitable move for you over the longer term. This may mean helping you to move into an area where you can develop new skills that will be in demand well into the future. Or it could be helping you to find an actuarial role that maximises your earnings potential. We take the time to truly understand what your driving factors are that have led you to seek an actuarial recruitment firm in Dublin the first place.
We have been in business since 1998. With over 20 years' experience of recruiting actuaries in Dublin and Ireland we have built a very wide actuarial network and a detailed knowledge of the niche actuarial community in Dublin and further afield in Ireland.
We have access to the largest number of actuarial jobs in Dublin and Ireland. It makes sense to keep your options open and to examine all potential jobs that may fit your needs. We strongly suggest using the actuarial recruitment services of a company that has access to the largest number of actuarial jobs in Dublin and Ireland.
We understand actuarial companies and the differences between them. Often, the differences between actuarial companies and jobs are obvious. However, at times the differences may be more subtle. We pride ourselves on the fact that we have the experience and knowledge to really understand actuarial companies and the differences between them.
You can speak with an actuary who is also a certified career coach. One of our Directors, Jenny Johnson BAFS, FIA, FSAI, is a certified Career Coach and holds an Advanced Diploma in Executive, Leadership and Personal Coaching. Career Coaches excel in helping people figure out what kind of job they are most suited to and to help them plan a new career path. A career coach can help develop your leadership and interpersonal skills. Other examples include using a career coach to help develop your conflict-management skills and self-confidence.
With us by your side, finding that dream actuarial job is no longer impossible!
Looking for actuarial recruitment company in Ireland? You've come to the right place! Acumen Resources is the most trusted recruitment firm for actuaries in the country. Call us now at   +353 1 6099 400